Products for the candle industry
EG-Plastic offers tea light cups standard and maxi lights as well as votive cups. Plastic can be colored in various colors and with effects. There are some standard colors which we can offer directly. If you want to have a special effect or special color with the cup, do not hesitate to contact us.
You need an advertising print or church symbols on candle cups?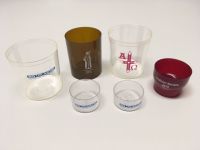 On all our cups monochrome filigree prints can be produced inexpensively so that even with small cups the logo is clearly recognized. Even for sacrificial and goblet cups the curvature can be integrated into the print almost to the foot so that maximum visibility for the information is possible. All we need is your logo in good resolution as a pdf file.