Products for the candle industry
Welcome to the EG-Plastic product sites for the candle industry
Take a quick and easy overview of votive and consumer plastic cups on the next sites. Do you want to realize an own color or cup design?
Call EG-Plastic.
Plastic cups for the candle industry
All EG-Plastic® plastic cups are made of 100% recycled plastic. This is very sustainable compared to glass and aluminum cups and thus contributes to a reduction in CO2. All offered EG-Plastic cups comply with the ASTM F 2417 burning test standard, which is applicable to plastic cups that are used in buildings (in-door). In the future, the standardization committees of the European candle industry are planning to integrate the American standard into the existing EU standards in order to be able to define a uniform standard worldwide.
We would like to inform you that not all plastics can be used for candle cups for in-door burning according to the above standard. Unfortunately, this includes compostable plastics such as PLA. Once ignited, the PLA cups can burn down completely. The standard plastics, such as PP/PE, PMMA, SAN, PS, ABS, also fail the test.
As a provider of plastic know-how for the candle industry, EG-Plastic® processes not only the plastic PC, but also the plastic compound PET + PC, which offers additional safety advantages beyond the standards, such as self-extinguishing and resistance to aggressive waxes (stearins), colours and scents compared to PC. PC can react to the substances with cracks.
EG-Plastic® is a sponsoring member of the German candle guild and RAL Quality Mark Candles. We take consumer protection and sustainability seriously.
Safety first.
Your EG-Plastic® Team
EBS - more safety, more elegance, more cleanliness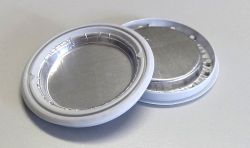 EBS provides more safety for casted pillar candles because a burning through of the flame is prevented even if EBS is pierced by wire. The pillar candle is standing straight on the foot. The EBS prevents direct heat transfer of the flame to the floor.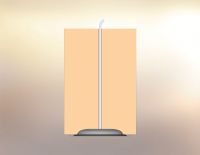 The foot gives the pillar candle more elegance and pads remain wax-free and color-free. Safety first. The EU increases the pressure on the candle industry for more safety for candles. EBS is patented, developed and made in Germany. With EBS you get the latest technology to be at the pole position. EBS is not described in the catalogue. Please, contact EG-Plastic directly.